BEST CHEW TOYS EVER! These are made of repurposed fleece that is hand tied, braided and knotted tightly into Super Chewer Tugs. These soft toys are made for and tested by our super chewers Jethro and Max. These and Kongs are the only toys we use anymore, everything else is destroyed in a day. The harder they pull the stronger the tug becomes making them last even longer. The soft fleece helps keep teeth and gums healthy while playing. After hours and hours of fun and all the slobbery drool best of all this tug is completely machine WASHABLE. 

Available in assorted sizes, designs, colors and great for any age or sizes. These are made to encourage a great game of tug of war, fetch or just to sit and chew. Try them now and see how much fun you can have with your pet.

Our vision for each piece is not perfection but uniqueness, every one is made a little different and with lots of love. Order now and enjoy!

Call for wholesale prices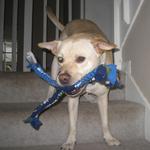 Gracie lost her partner in crime Scout last week and the super chewer made her day! A big thank you from Gracie. She loves her new Super Chewer! 

Rueben escapes the kids to enjoys his super chewer toy on the stairs. But when the kids want to play they hold on and slide across the floor.

Share Your 

Super Chewer Story!

Jethro on the left and Max on the right. These are our two super chewers who love to play.

Buddy from Athens, GA enjoyed his tug toy way too much that his Mommy came back to try another style. Together we will figure out the best ones for our cutie Buddy. Enjoy!!

Molly is loving her Super Chewer!

Keik loves her new chew toy!

Cooper enjoys his chew toy at work.

Ginger loves her toy! Just try to take it away. Grrrrr

Tux is ready for the holidays with his new chew toy!

Meet Sumo, he loves his new toy. Allyson